Externally, there's lots to love about the compact dimensions and crouching stance of the M235i xDrive that continues the European love of sedans masquerading as coupes.
The concept worked so well with the Mercedes-Benz CLS from 2004 that rivals adopted the style with such fervour that it has almost taken on its own category, evolving as rampantly as a Cavoodle litter in a High Street pet shop.
BMW makes its version under the upmarket Gran Coupe label, spreading the love to versions in the 2 Series, 4 Series and 8 Series.
But the 2 Series Gran Coupe – of which there are four iterations priced from $49,990 (plus costs) through to the M235i xDrive here at $72,990 plus on-road costs – isn't all it seems. 
It is not, primarily, a "proper" 2 Series with rear-wheel drive and it sits on a very different platform to the 2 Series coupe and convertible.
What this is, is a Mini that's got into BMW's wardrobe and pinched a fancy outfit.
Further, the M235i is probably better known for its 2014-2016 iteration with its stonking 3.0-litre turbo-petrol six and 240kW/450Nm of grunt. The car here has the same name; different postal address.
Now before there's gnashing of teeth by the populace and preparations for a symbolic guillotining of the faux BMW, it has to be said that the format works exceptionally well and is not worthy of derision.
The M235i xDrive's only crime, however, is not the wearing of a BMW badge, but the application of the coveted M name. For however good this is, it's not an M.
The Road to Recovery podcast series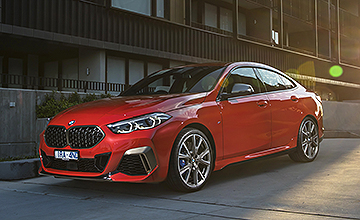 Rims, Mag Wheels & Tyres Online | Rims, Wheels & Tyre Dealer Australia by Shop your Wheels & Tyres Today