MITSUBISHI has given the petrol-electric plug-in hybrid Outlander PHEV a bigger petrol engine, upgradedone of its two electric motors and squeezed a few more kilowatt-hours out of its lithium-ion battery pack.
The company admits it seems counterintuitivein this age of downsizing to put a bigger combustion engine in its hybrid, but the new mill can switch from the more efficient Atkinson cycle at low revs and loads to the more conventional and punchier Otto cycle when more is demanded of it.
Still, the official combined-cycle fuel consumption rating has increased rather than decreased, but we suspect the reverse may be true in real-world conditions when the bigger engine is working less hard to achieve the same result as its smaller predecessor.
On our brief launch drive in Canberra this wasn't obvious, but the new drivetrain feels impressively relaxed and seamless, while equipment upgrades help to keep the plug-in Outlander relevant.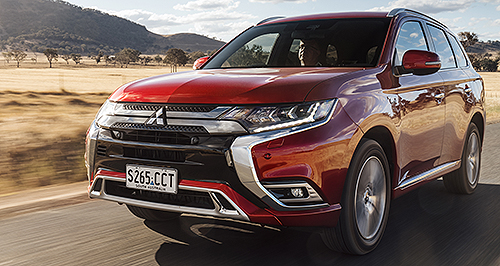 Rims, Mag Wheels & Tyres Online | Rims, Wheels & Tyre Dealer Australia by Shop your Wheels & Tyres Today