Ready to pounce: Hyundai says more details of the new Santa Fe will come to light in coming weeks.
HYUNDAI has provided the first glimpse of its "reimagined" Santa Fe which brings fresh styling and new technology to the seven-seat large SUV that is expected to launch here late this year.
Two darkened images released this week show the facelifted Santa Fe will brandish a wider, more rectangular grille design which narrows at either end, housing a newly devised hi-tech headlight arrangement and integrated daytime running lights which extend upwards 'behind' the upper grille trim to the bonnet line to form a T shape.
Hyundai says the new elements – which are clearly related to the Vision T concept shown at the Los Angeles motor show late last year – reflect the South Korean brand's "new integrated vehicle architecture" and "hint at technological enhancements yet to be revealed".
The grille is also depicted in two forms – black open honeycomb and a more closed-off version – with one being dubbed the 'luxury' and the other as 'standard'.
There are also AMG-esque power domes on the bonnet, flared front wheelarches and a far more aggressive, underbite-style bumper with two struts leaning back towards the grille either side of the lower intake.
Hyundai also says the new Santa Fe will bring "interior design updates providing premium amenities and comfort".
The company will reveal more information in the coming weeks. 
Through the first four months of this year, 1578 examples of the current Santa Fe have found homes, accounting for an even 6.0 per cent of the sub-$70,000 large SUV segment.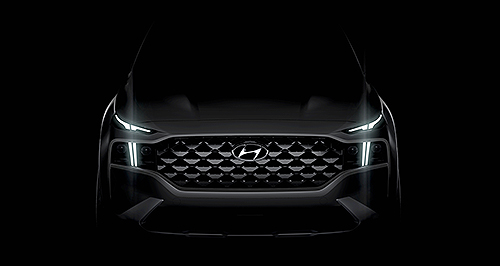 Rims, Mag Wheels & Tyres Online | Rims, Wheels & Tyre Dealer Australia by Shop your Wheels & Tyres Today